All DVDs On Sale! Scroll to the bottom for 4 DVD Set offer!
Better Bucktails For Muskies
Steve Heiting fishes fast. His objective is to cover as much water as he can to contact as many active muskies as possible. Since he is primarily a caster, Steve relies on bucktails as his primary presentation during the warm water months.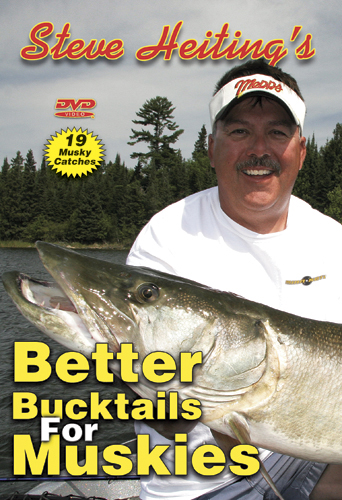 In this DVD, Steve explains how he fishes bucktails and why they are his go-to bait during a large portion of the musky season. Not only does this fast-paced, professionally-edited DVD contain the solid musky information you've come to expect from Steve Heiting, but it features exciting battles with 19 musky catches from cast to release.
Steve's friends say he fishes faster than anybody they know. After watching Better Bucktails For Muskies, chances are you will never fish a bucktail the same way again.
Featured Subjects
Bucktail Basics: An explanation of bucktail differences and how they are merely tools to get the job done.
Bucktail Retrieves: How to make your bucktail more appealing to more muskies.
Bucktail Considerations: Simple tweaks and modifications to make bucktails more effective.
Bucktails At Their Best: Recognize the conditions when a bucktail should be the first bait out of your tackle box.
Figure-8's At The Next Level: Three-dimensional figure-8's, big ovals, and the "hang" move.
Plus: Hilarious outtakes.
WIDE SCREEN 16:9 FORMAT; 60 minutes; $9.95

Muskies: Go With The Flow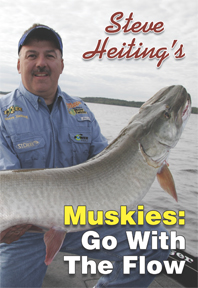 "If I don't have wind or current to use to my advantage, I feel completely useless on the water," says Musky Hunter magazine's Steve Heiting. "Of course, that's not always the case, but wind and current are two of the fundamental ingredients to consistent musky fishing success."
Heiting's instructional musky fishing DVD explains how to use water flow so you can catch more muskies in the coming season. Steve's points are punctuated by fantastic musky fight footage as he and his guests boat numerous giant fish.
Three years in the making, this fast-paced 60-minute DVD is professionally-edited and features the solid musky information you've come to expect from Steve Heiting.
Segments included in this DVD:
Muskies In Current: Steve explains how he fishes in wind and natural current and where he expects muskies to be found in these situations.
River Muskies: Rivers tend to be enormously overlooked but can yield fantastic fishing, especially as muskies gain a foothold in the rivers of the Midwest.
Boat Control: Steve explains how to rig your boat to use current and how to make the most of each cast.
Special Circumstances: Wind or current may create tremendous opportunities where you least expect them.
Pre-Turnover Binge: Everywhere they're found, muskies move shallow before turnover in early fall. Target them, and you'll catch giants!
Plus: Musky tips and hilarious outtakes.
60 minutes; $9.95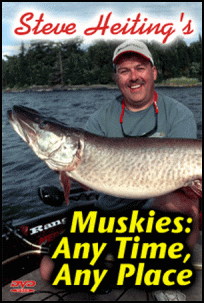 DVD: Steve Heiting's Muskies: Any Time, Any Place
As musky hunters gain experience, it's common for them to seek new challenges in the form of more or bigger muskies, and this may mean moving on to unfamiliar waters. This video will give you the knowledge, confidence and techniques to find waters that hold the muskies you want to catch, how to learn those lakes quickly, and start catching fish.
Featured Subjects:
Discovering New Waters: Steve's system for finding 'new' lakes and dialing into their secrets.
1-2 Punch for Muskies: Cover water quickly with bucktails to catch active fish, then return later for the rest.
Livebait Twitching: An in-depth look at the most effective system yet for early season, cover-tight muskies.
Figure-8 Muskies: Improve your musky catches 10-40% with a simple technique. See an actual figure-8 strike!
Coping With Boat Traffic: Successful musky fishing on popular lakes is often a matter of timing.
On-The-Water Awareness: The best musky hunters dial into the environment and the conditions that face them.
60 minutes; $9.95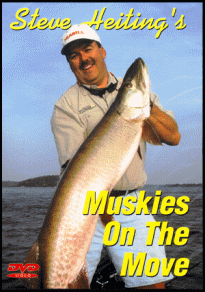 DVD: Steve Heiting's Muskies On The Move
Some have called the musky the fish of 10,000 casts, and that's just for any fish. Trophy muskies can be even more rare and difficult to catch. But there are times when muskies are extremely active, when boating several big fish in a day's time is not only possible, but predictable. These patterns can be applied almost anywhere. If you want to learn to recognize and apply these patterns, this video is for you.
Featured Subjects:
Early Season Muskies: Muskies can be easy to catch when they're shallow and hungry.
Environmental Changes: Learn how conditions can trigger muskies to feed.
Last Light Muskies: Perhaps the most important environmental change is the period just before dark.
Muskies On The Rocks: An overlooked but consistent pattern where shallow, rocky structure exists.
Storm Front Muskies: You need to fish fast when an approaching front turns big muskies on.
Catch & Release: Learn the latest techniques to ensure a safe release for you and your musky.
60 minutes; $9.95

Special Offer!!!
Steve Heiting's 4-DVD Set
GET all FOUR of Steve's DVDs — the all-new Better Bucktails For Muskies; Muskies: Go With The Flow; Muskies: Any Time, Any Place; and Muskies On The Move for only $20 plus $7 shipping & handling.
You save nearly $20!