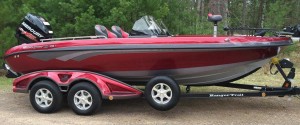 Ranger 619FS
Introduced with the 2015 model year, Ranger's new 619FS is an ambitious redesign of its proven 619VS. The FS series has been redesigned from its hull to its interior features and looks dramatically different compared to older models. The more I've fished from my new boat, the more I like it.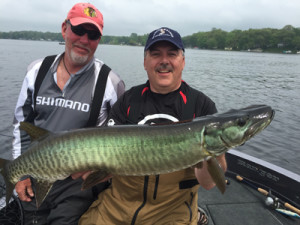 The first thing you'll see with the 619FS is that it's two inches longer and four inches wider, but the front looks considerably deeper. Some musky anglers have questioned whether this will put them farther from the water, thus impacting their figure-8's and ability to work with netted fish. However, I've found the new keel sits low in the water; in fact, the new 619FS sits only slightly higher off the water than older VS models. It really hasn't affected my fishing. That's the beauty of fiberglass — it can be molded to cut the water rather than sit atop it. With this deeper keel, the giant 51-gallon gas tank, and all four batteries in the floor, boat control is almost an afterthought in windy conditions. Coupled with a 112-pound thrust Minn Kota Terrova, this boat is a dream to maneuver.
The big front casting deck includes an 8 1/2-foot rod box that you can modify to hold 9-foot musky rods. You can view the how-to for this easy modification by clicking here.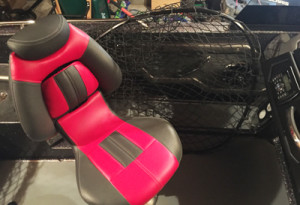 Besides the giant rod box, other musky-favorable features include: enough space behind the passenger console to accommodate a large net — a Frabill PowerCatch Big Game fits as if it was used as a template (a Big Kahuna requires that the net be at a slight angle); four tool holders located throughout the boat, including one on the port side of the front deck which easily accommodates an unhooking pliers, scissors and hook file; and a smaller removable rear deck that allows simultaneous use of a third or even a fourth seat.
Another great new feature is the integrated bow navigation lights — if you fish at night, you can motor across the lake without the bow light messing with your night vision. Other great features include a form-fitting keel protector, non-slip rubber mat in the cockpit, reinforced windshields that can be easily swapped to a walk-through windshield (they use the same holes); larger cooler and baitwell; numerous running rod rack and storage options; LED interior lighting; and Ranger's exclusive, patent-pending, Power Ventilation Rod Storage (PVRS) System, which circulates air throughout the storage boxes to help dry out tackle and equipment. Overall, there are 40-some changes to make the FS series a better fishing rig.
My 2015 619FS with a 225 hp Mercury Pro XS came equipped with a 4-blade stainless Mercury Rev-4 prop, but a far better prop for this boat is Mercury's 4-blade 21-pitch Bravo 1 with the vent plugs removed. With the Bravo, I was able to open the 225 Pro XS up to its recommended top end of 5,800 rpm, which pushed the boat to 57 mph (according to my GPS). The Bravo's hole shot with the plugs removed is excellent, too. With a 3-blade, 21-pitch Mercury Tempest, I was able to get 5,750 rpm and 54.4 mph top speed with my 2015 boat. The hole shot of the Tempest was only slightly better than the Bravo, but the fuel consumption was noticeably less. In comparison, the Rev-4 had a very slow hole shot and the Pro XS was only able to reach 5,150 RPM and 51 mph. If you're buying this boat, specify that you want the Bravo or Tempest props.
My 2017 and 2018 619s were rigged with 225 hp Verados, and if this is your outboard you'll want to prop it with a 20-pitch Bravo 1 LT. I found it had a great hole shot and the best top end. Mercury is revamping its lineup for 2019 and the Verado will not be available in the 225 hp size. My 2019 619FS will be rigged with a Pro XS 4-stroke, and I will report back here once I have propped it out.
The interior storage of the 619FS is bone-dry. Starting with the starboard deck storage compartment and going clockwise, here's what I'm doing:
• Starboard deck — All of my "in play" musky lures are stored here in Plano 4-15 boxes.
• Starboard, behind operator seat — Dry boxes containing spare equipment, licenses, flares, first aid kit.
• Starboard, rear — The battery charger is in this compartment. I also have a spare gallon of oil and jumper cables stored there.
• Port, rear — I see this as a bonus box because previous 619 models didn't have this compartment. I am using it for extra 4-15 boxes full of "just in case" lures … stuff I don't expect to work, but I feel better to have them along. I will also carry a spare prop in this compartment when on extended trips.
• Port, behind passenger seat — I keep this hatch open for the use of my fishing partners.
• Port deck — This compartment is half the size of previous 619 models because of the space required by the PVRS system. I'm storing my rainsuit, extra clothing and boots in this compartment.
To learn more about the new Ranger 619FS, click here. To read more about the entire Fisherman FS series, click here.
— Steve Heiting