Unavailable for several years, Gelb's revered 207-page musky book is now available in paperback format
Do you know what it takes to consistently catch big muskies? Tom Gelb does, and reveals his secrets in Musky Strategy. Tom's book is available now in paperback format.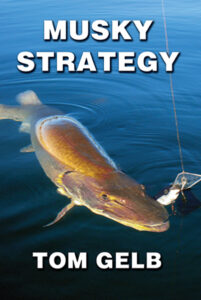 Tom Gelb's attention to detail is second to none, and his efforts have paid off with three of the largest muskies caught from Wisconsin waters in the last 50+ years.
Tom has fished northern Wisconsin since 1952 and Canada's Lake of the Woods for 40 years, using conventional methods of casting and trolling. While the author is best known for his row-trolling exploits, it is only in the last 25 years that this has evolved into his method of choice. Musky Strategy includes strategic topics intended for both casting and trolling techniques. Specifically, it is about how to find and catch the biggest muskies that live in a lake, including all the little details that matter when you embark on your own quest for a giant musky.
Tom Gelb strives to understand how muskies are affected by the natural world and prides himself in his ability to think outside the box to catch them.
If you desire to become a student of the musky fishing game and are willing to take the steps necessary to catch big muskies, you are in luck. Musky Strategy is a blueprint to musky success.
Chapters include:
Big Fish Stories
Seasonal Water Temperature Impact
Musky Mood
Food Chain
Moon
Weather: Friend or Foe?
Lure Color
Packs & Pairs
Current
Overcoming Poor Conditions
Converting Follows & More
Open Water
Lure Depth Determination
Setting Lure Depth In The Water Column
Weed-Free Trolling … Almost
Trailers (Not For Your Boat)
Details That Matter
Daily Planning
Conclusion
Only $19.95 plus $3.99 S&H
U.S. orders only