Thank you for visiting the official website of professional musky angler Steve Heiting. On this site, you can learn more about Steve, find out where you can hear him speak, read some of his articles, and learn what tackle and equipment he uses on the water.
Personal Best Fish Boated During
Canada Musky Adventure School
Dan Reddy already had accomplished big things on July 15 when he caught his personal best musky, a 47-incher, with a bucktail in a figure-8. But then things kept getting better.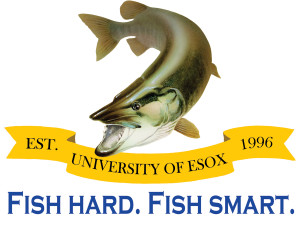 The next day, Reddy caught another personal best fish, a 48-incher, on the same bucktail and in a figure-8. Finally, on the last day of his fishing trip, he caught a 50-1⁄2-inch musky on a nine-inch minnowbait, his third personal best fish of the week.
Reddy, of Villa Park, Illinois, was fishing in the University of Esox Canada Musky Adventure School on Lake of the Woods during the week of July 15-22. Anglers from eight different states attended the annual event, which is held at Sandy's Blackhawk Island Camp.
"We were heading toward another spot but I saw the wind was on the point of an island we hadn't yet fished, so we stopped to check it out," Reddy said. He and his partner Scot Jaras, cast at the island, but when nothing happened Reddy fired a cast back across the face of the island. The change in casting angle resulted in the strike from his third big fish of the week.
"Dan took what he learned at the school and ended up having a great week," said Jim Saric, host of The Musky Hunter TV show and co-owner of the University of Esox. "First, he recognized the potential of the spot and saw that the wind was making it even better. He used a lure type which we had recognized as one that was producing lots of muskies during the week. Then he changed his casting angle, which is one of those little tricks that can trigger a strike."
Students at University of Esox schools are encouraged to share their experiences to dial into the week's patterns. Each morning and evening, everyone meets as a group to discuss their experiences. This was especially important as a big cool-down during the week of the school made many fish sluggish. "Northwest winds and big wind don't help musky fishing during the summer in Canada," said musky pro Steve Heiting, co-owner of the school. "Again, our info-sharing format paid off." Normal "summer" musky fishing in Canada results in a strong bucktail bite, but the week's weather changed the idea of "normal."
Bucktails accounted for only 64 percent of the fish boated during the week. Minnowbaits produced nearly 21 percent, and 48 percent of the muskies caught regardless of lure type were taken with a figure-8 maneuver.
Rodney Adkins of Hartford, Kentucky, had never caught a musky before attending the school, but boated the most of anyone in camp with seven fish — all on Mepps spinners. His best musky measured 45 1⁄2 inches.
Three other anglers caught their personal best muskies during the week. Paul Papadopulos of Atlanta caught a 46-incher on a topwater, Dave DeJaeger of Englewood, Colorado, caught a 45-incher on a bucktail, and P.J. Papadopulos caught a 41-incher on a bucktail. DeJaeger and P.J. Papadopulos also caught their first muskies during the school.
Other muskies exceeding 45 inches caught in the school included a 48-incher by Josh Schonhorst of Milford, Michigan, on a minnowbait; a 46-1⁄2-incher by Mike Aalberg of Lincoln, Nebraska, on a bucktail; a 45-incher by Kurt Horvath of Glenview, Illinois, on a minnowbait; 47- and 46-inchers by Heiting on a soft plastic and a minnowbait; and 48-, 45-1⁄2- and 45-inchers by veteran instructor Kevin Schmidt on a soft plastic and bucktails. An incredible 71 percent of the muskies in the school exceeded 40 inches in length.
This year marked the 14th time Sandy's Blackhawk Island Camp hosted the school. "Not only do we have legendary guide Bill Sandy involved with the school, but the camp's location, beautiful cabins, terrific food and great docking system provide a terrific experience for our students," said Saric.
The University of Esox will return to Blackhawk Island Camp in 2024. Watch social media for details.

Northwoods Musky Reports Available Weekly
On WJJQ And All Podcast Platforms

"Steve Heiting's Northwoods Musky Report" has returned to WJJQ Radio for 2023.
During the fishing season, anglers in Wisconsin's northwoods can listen to new musky reports from Thursday through Sunday on Northwoods 92.5, WJJQ Radio of Tomahawk, Wisconsin, or stream them at wjjq.com. Segments become available on podcast platforms Monday morning.
"I have a lot of fun bringing my radio reports to anglers everywhere," Heiting said.
The reports are quick-hitting and usually less than four minutes in length. Heiting's reports discuss current conditions, patterns and tricks for musky anglers, and highlight upcoming musky fishing events in the northwoods.
Mepps, the manufacturer of "The World's #1 Lure," of Antigo, Wisconsin, has signed on as the program's title sponsor for the third consecutive year.
To listen to archived reports on Anchor, click here. To listen on Spotify, click here.