Thank you for visiting the official website of professional musky angler Steve Heiting. On this site, you can learn more about Steve, find out where you can hear him speak, read some of his articles, and learn what tackle and equipment he uses on the water.

Two University Of Esox Musky Schools
Announced For 2023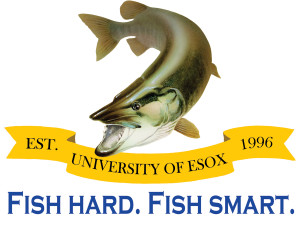 The University of Esox will conduct two musky schools in 2023. The Summer Musky Tactics session will be held June 9-11 at St. Germain Lodge and the adjoining Fibber's Restaurant, and the Canada Musky Adventure week-long session will be held July 15-22 at Sandy's Blackhawk Island camp on Lake of the Woods.
Join hosts Jim Saric and Steve Heiting and others for an informative, fun-filled weekend of musky fishing on legendary musky waters.
For more information, click here.
Steve Inducted Into

Fishing Hall Of Fame
Steve Heiting was inducted into the Fresh Water Fishing Hall of Fame on Sunday, August 21, during the awards ceremony of the National Championship Musky Open in Eagle River.
HOF Director Emmett Brown performed the induction before approximately 1,200 people. He was joined by Jim Saric, a 2012 HOF inductee and Steve's friend and former boss at Musky Hunter, on the stage.
To read more, click here.