Thank you for visiting the official website of professional musky angler Steve Heiting. On this site, you can learn more about Steve, find out where you can hear him speak, read some of his articles, and learn what tackle and equipment he uses on the water.

Steve To Headline Nicolet College Musky Seminar March 25 & April 1
RHINELANDER, Wisconsin — Final details are in place for Nicolet College's annual Musky Seminar to be held March 25 and April 1.

Participants can attend one or both sessions, which will be held in the Northwoods Center on the Nicolet College campus, located one mile south of Rhinelander just off Hwy. G. Ten different classes are planned for the two-day event, plus an end-of-the-day question and answer session each day.
"I'm really excited about the new seminar lineup we have for this year," said Steve Heiting, Fishing Hall of Famer and the event's lead presenter. "We've decided to go all-in with specific lure techniques and secrets.
"Musky fishermen love buying new lures, and our seminars are geared toward helping students bring out their lures' magic."
Joining Heiting in presenting seminars are northwoods guides Scott Biscobing, Ken Jackson and Rob Manthei.
The schedule and session topics are as follows:
Saturday, March 25
10 a.m. — Basics Of Musky Fishing/Landing & Release
11 a.m. — Bucktails A-Z
Noon — Catered lunch
12:30 p.m. — Topwaters A-Z
1:30 p.m. — Minnowbaits & Crankbaits A-Z
2:30 p.m. — Livebait A-Z
3:30 p.m. – Question and answer session with the presenters
Saturday, April 1
10 a.m. — Musky Location Through The Season
11 a.m. — How To Catch Muskies From The Back Of The Boat
Noon — Catered lunch
12:30 p.m. — Jerkbaits A-Z
1:30 p.m. — Soft Plastics A-Z
2:30 p.m. — Quickly Learn The Secrets Of "New" Waters
3:30 p.m. — Question and answer session with the presenters
Cost is $60 for one day and $100 for both days. Catered lunch and the chance at door prizes are included in the registration fee.
To register, click here or call (715) 365-4681 or 1-800-544-3039, ext. 4544.

"Steve Heiting's Musky Tips" Resume
"Steve Heiting's Musky Tips," a series of weekly segments offering ways to improve as a musky angler, have debuted for 2023 on social media.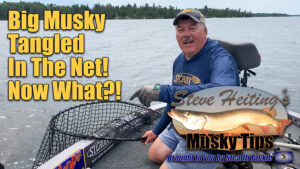 The musky tip series premiered January 16 and will run through April. Musky Tips will go live simultaneously each Monday on YouTube, Facebook and Instagram. Stealth Tackle has signed on as title sponsor for the series.
The first segment deals with what to do when a big musky gets tangled outside of the net. "You need to act quickly because a big fish has lots of leverage and can get away in a hurry," Steve said. "I didn't plan to film a segment like this — it just happened — but fortunately I got the fish into the net and you'll see how in the video."
Steve's Musky Tips are short and fast-hitting, and only two to four minutes in length. They combine on-the-water footage of fishing techniques and tackle discussion with video of musky action.
"By no means am I calling this a 'TV show'," Steve explained. "Rather, it's my attempt to help viewers out with questions they may have about the sport.
"Nothing like this was available when I started musky fishing, and a lot of what I knew early in my career was self-taught through a lot of trial and error. I never forgot how hard it was to get started, and my whole career has been dedicated to helping share knowledge of this great sport with others.
You can view and subscribe to Steve Heiting's Musky Tips by clicking here.

Two University Of Esox Musky Schools Set For 2023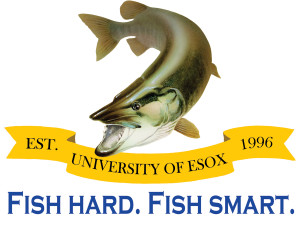 The University of Esox will conduct two musky schools in 2023. The Summer Musky Tactics session will be held June 9-11 at St. Germain Lodge and the adjoining Fibber's Restaurant, and the Canada Musky Adventure week-long session will be held July 15-22 at Sandy's Blackhawk Island camp on Lake of the Woods.
Join hosts Jim Saric and Steve Heiting and others for an informative, fun-filled weekend of musky fishing on legendary musky waters.
For more information, click here.