Thank you for visiting the official website of professional musky angler Steve Heiting. On this site, you can learn more about Steve, find out where you can hear him speak, read some of his articles, learn what tackle and equipment he uses on the water, and purchase his DVDs.

Steve At Pamp's Outboard Open House Saturday
On Saturday, February 25, Steve Heiting will speak at Pamp's Outboard's Open House in Green Bay, Wisconsin. Steve will again offer his "Make It Great" seminar at 1 p.m.
"In 'Make It Great' I explain how an angler's success — whether it be for a day, a week or a season — is more in his control than he may think," Steve explained. "Everybody can work baits, and there are few secrets left anymore. So, it comes down to your time on the water, the efficiencies you create for yourself, and maximizing feeding windows to put more muskies in your boat."
Other speakers Saturday include top walleye pros Tom Keenan at 9 a.m., and Jason Przekurat at 11 a.m. All three seminars are sponsored by Ranger Boats.
At the event, you can register to win one of seven half-day guided fishing trips, for everything from salmon to smallmouth bass to walleyes to muskies.
For more information, click here.
The weekend of March 10-12, Steve will be in the Musky Hunter magazine booth all weekend for the Minnesota Muskie Expo. Steve will also speak at the show on Sunday, March 12, at 12:30 p.m., presenting "Make It Great." For more information about the Minnesota show, click here.
On Saturday, March 18, Steve will be at the annual open house for Shoeder's Marine in Rhinelander, Wisconsin. Steve's appearance is sponsored by Ranger Boats.
Finally, on Saturday, April 8, Steve will be the featured speaker at the annual fundraiser for the Capital City Chapter of Muskies Inc. at the 5100 Bar & Banquet Hall in McFarland, Wisconsin. Doors open at 1 p.m., and Steve will present his seminar at 2:30 p.m.
For more about Steve's seminar and appearance schedule, or for information to book Steve to speak at an event, click here.

Steve's Musky Mastery Back In Print
ST. GERMAIN, Wisconsin — The book that taught musky fishermen there is more to success than simply putting in "time on the water" is again available in print.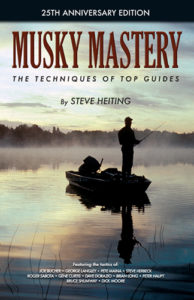 During the 1991 fishing season, Steve Heiting set out to explain how to catch the so-called "fish of 10,000 casts" by every technique, from fly-fishing in the spring through livebait in the fall. Rather than rely on his own experiences, Heiting interviewed and fished with the best musky guides of the time, and revealed their secrets in his 1992 book, Musky Mastery: The Techniques Of Top Guides. Now, a quarter century later, Musky Mastery has been re-released in a 25th anniversary edition.
"The original publisher of Musky Mastery sold out four printings of the book, but it's been off the market for nearly 15 years," Heiting said. "During that time, thousands of new musky anglers have entered the sport, and I have received many requests for copies. In 2014, I brought Musky Mastery back as an e-book, and the sales have been so good in that format I was convinced to bring it back in print."
The names of the guides included in Musky Mastery read like a who's who of musky fishing: Joe Bucher, Steve Herbeck, George Langley, Roger Sabota, Bruce Shumway, Brian Long, Dave Dorazio, Pete Maina, Gene Curtis, Dick Moore and the late Peter Haupt. The information they revealed was so cutting-edge it remains valid even today.
Through the book's descriptive narrative, readers can "join" the author as he fishes with each of the guides, utilizing the techniques which made them famous and documenting the results of each unique adventure.
In the preface to the new edition, Heiting takes a retrospective look at the changes in musky fishing during the past 25 years and asks where the sport will be 25 years from now. The new edition also includes "where are they now" information about each of the featured guides.
The 160-page softcover book is packed with 68 photos of the guides in action. Musky Mastery is available for $19.95 plus $3.99 shipping & handling. To buy an autographed copy of Musky Mastery from this site, click here. It is also available muskyhunter.com, select northwoods bookstores, and from Amazon.com. The e-book version is available by clicking here.