Thank you for visiting the official website of professional musky angler Steve Heiting. On this site, you can learn more about Steve, find out where you can hear him speak, read some of his articles, and learn what tackle and equipment he uses on the water.

Steve Inducted Into

Fishing Hall Of Fame
Steve Heiting was inducted into the Fresh Water Fishing Hall of Fame on Sunday, August 21, during the awards ceremony of the National Championship Musky Open in Eagle River.
HOF Director Emmett Brown performed the induction before approximately 1,200 people. He was joined by Jim Saric, a 2012 HOF inductee and Steve's friend and former boss at Musky Hunter, on the stage.
To read more, click here.
Steve Launches YouTube Musky Tips

Fishing Hall of Famer Steve Heiting continues to expand his media footprint with "Steve Heiting's Musky Tips," a series of weekly segments during the musky season which will appear on YouTube.
The musky tip series debuted Friday, May 20, with a segment about putting the odds in your favor for opening day muskies.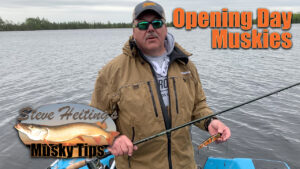 Steve's YouTube segments are short and fast-hitting, and only three to four minutes in length. They combine on-the-water footage of fishing techniques and tackle discussion with video of musky action. Videos will be released when they are most relevant during the season.
"I plan to do 15 tips each season," Steve explained. "By no means am I calling this a 'TV show.' Rather, it's my attempt to help viewers out with questions they may have about the sport.
"Nothing like this was available when I started musky fishing, and a lot of what I knew early in my career was self-taught through a lot of trial and error. My learning curve was hastened when I joined Musky Hunter and learned from people like Joe Bucher and Jim Saric. I never forgot how hard it was to get started, and my whole career has been dedicated to helping share knowledge of this great sport with others."
You can view and subscribe to Steve Heiting's Musky Tips by clicking here.