Thank you for visiting the official website of professional musky angler Steve Heiting. On this site, you can learn more about Steve, find out where you can hear him speak, read some of his articles, learn what tackle and equipment he uses on the water, and purchase his DVDs.

3,000th Musky At University Of Esox Schools Boated In June Event
Though Bob Neisendorf has been fishing for muskies for over 30 years, he wanted his son-in-law to get some training in musky fishing. The two signed up for the Summer Musky Tactics session of the University of Esox on June 12-14, and before the school was over Bob ended up catching a milestone musky in the history of the school.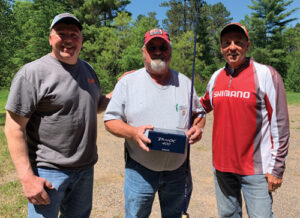 Neisendorf, 68, of Maple Park, Illinois, is a retired vice president of production for a hydraulic lift manufacturing company. The musky he caught on Sunday, June 14, was the 3,000th boated at a University of Esox Musky School during its 25 years of existence.
"We were within a half-dozen casts of pulling the plug and heading back to the resort for lunch," Neisendorf said. "I was just straight reeling, and letting the bait work itself over a 12-foot weedy flat, and the musky hit about 20 yards away from the boat." After a short fight, Neisendorf's musky measured 35 inches long.
His son-in-law, David Anderson, also of Maple Park, netted the fish. "He fumbled a little extending the handle, but fortunately he didn't knock it off," Neisendorf laughed. Neisendorf's musky was in the net at 11:45 in the morning, shortly before fishing in the school ended at noon.
For catching the 3,000th fish, Neisendorf was awarded a Shimano Tranx 400 baitcasting reel and a St. Croix Legend Tournament 8-foot-6 heavy action "Sling Blade" musky rod. The rod was personalized to read "University of Esox 3,000th Musky." Musky pros Jim Saric and Steve Heiting, owners of the University of Esox, made the presentation.
"I'm still a little stunned. It was a little overwhelming," Neisendorf said about winning the rod and reel.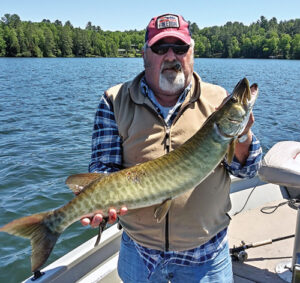 "Three thousand muskies is a lot of fish, and we couldn't be happier that Bob was the one to get it," said Saric, host of "The Musky Hunter" TV show. "He's a longtime musky fisherman who wanted to share the sport with his son-in-law, and brought him to our school to help shorten the learning curve. Essentially, that's why Steve and I started the schools 25 years ago — to help others become involved in this terrific sport."
Both St. Croix and Shimano are longtime supporters of the University of Esox, with St. Croix's involvement going back to the very first school in 1996.
With social distancing rules in place due to the COVID-19 outbreak, the school drew 20 anglers from eight states to St. Germain Lodge & Resort and the adjacent Fibber's Restaurant near St. Germain, Wisconsin. A massive cold front had hit the area a couple days before and the anglers still felt its effects.
"This was an unusual school. Never before have we had to make allowances for social distancing to keep everyone safe," said Heiting, the managing editor of Musky Hunter magazine. "However, our students were very enthusiastic about the opportunity to fish and they proved it by enduring some difficult, post-frontal conditions.
"St. Germain Lodge has the perfect facilities for an event like this — great accommodations and fantastic food, and the hosts, Rob and Kaye Manthei, couldn't be better."
The University of Esox will return to St. Germain Lodge June 11-13, 2021. "I hope social distancing is nothing more than a distant memory by then," Saric said.