Thank you for visiting the official website of professional musky angler Steve Heiting. On this site, you can learn more about Steve, find out where you can hear him speak, read some of his articles, and learn what tackle and equipment he uses on the water.

Interest High In 2021 University of Esox Musky Schools
Musky anglers are quickly signing up for the 2021 musky schools offered by the University of Esox, despite the uncertainty that remains from the Covid-19 pandemic.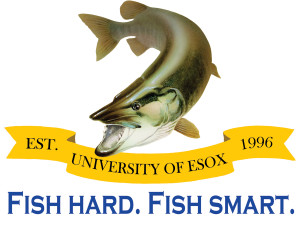 "We're seeing a tremendous amount of interest in next year's schools," said Jim Saric, host of "The Musky Hunter" TV Show and co-owner of the University of Esox. "What we're hearing from those who are signing up is they are ready to go when the musky seasons open next year."
The University of Esox is planning two events in 2021 — the Summer Musky Tactics School in St. Germain, Wisconsin, June 11-13, and the Canada Musky Adventure School at Sandy's Blackhawk Island on Lake of the Woods, Ontario, July 17-24.
The University of Esox held its Summer Musky Tactics School in 2020 despite the Covid pandemic, but canceled the Canada school when the U.S./Canadian border was closed. "We had a very successful school in St. Germain last year with a number of precautions in place to deal with the pandemic," explained Steve Heiting, managing editor of Musky Hunter magazine and co-owner of the University of Esox. "We used a larger facility to socially-distance our students, and our host site, St. Germain Lodge and Fibber's Restaurant, followed all of the guidelines put in place by the county's health department. We even went so far as to put hand sanitizer in everyone's welcome bag. The end result was a group of happy students who stayed safe and still went musky fishing."
The highlight of the Summer Musky Tactics School in 2020 was the catching of the 3,000th musky taken during the 25-year history of the University of Esox.
The Summer Musky Tactics school features eight hours of seminar instruction wrapped around two full days of fishing. The base bring-your-own-boat package includes class materials, all meals, two nights lodging, a welcome bag, and a chance at many door prizes. A guided package is also available.
The Canada Musky Adventure has 15 hours of seminars build around a full week of fishing. Class materials, lodging, meals, dockage, a welcome bag and the chance at door prizes is included. "A special feature of the Canada school is twice each day we gather everyone to discuss the day's patterns. We encourage everyone to share what they're seeing. In that way, everyone stays on top of the patterns as they evolve," said Saric.
Should Covid affect the 2021 schools, students will have the option of a full refund of their deposit, or they may instead put it toward another musky school at a future date. "We developed that policy for the 2020 schools to be fair for students who felt uneasy with the situation," Heiting said.
For more information about the schools, visit muskyhunter.com/university-of-esox or call (715) 358-0754.