Attend A University of Esox Musky School This Year!
Are you looking to catch your first or biggest musky? Have you ever wondered what separates those who occasionally catch muskies from those who consistently boat this elusive fish? If so, the University of Esox is for you.
The University of Esox is the pre-eminent musky fishing educational program and has been in business since 1996. The University of Esox conducts weekend and week-long musky fishing schools in the Midwest and Canada each season.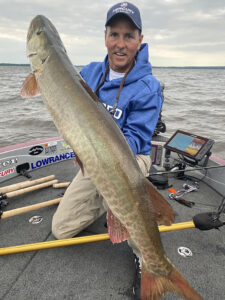 WHAT IS THE UNIVERSITY OF ESOX?
The University of Esox is designed to help people become better musky anglers. University of Esox Musky Schools combine peak musky fishing times with great musky locations. Schools involve classroom instruction and fishing, and are held at first rate resorts throughout the Midwest and Canada. Seminars feature PowerPoint, video, and hands-on instruction.
University of Esox Musky Schools are intensive but informal. The schools are designed for your education and enjoyment. More than 3,000 muskies, including hundreds of trophy fish, have been boated by students at University of Esox events. The schools promote catch and release — no musky has ever been kept at a University of Esox event.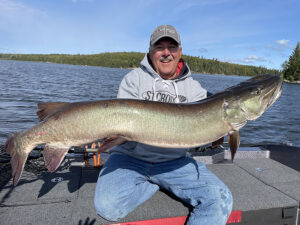 Your instructors for the musky schools are Fresh Water Fishing Hall of Famers Jim Saric and Steve Heiting. Jim is host of "The Musky Hunter" television show and former publisher of Musky Hunter magazine. Steve is a northwoods Wisconsin guide and was the longtime managing editor of Musky Hunter. Jim and Steve have hundreds of giant musky catches to their credit. Jim has taught musky fishing schools since the mid 1980s, Steve since the early 1990s. Jim and Steve are joined by top guides such as Bill Sandy, Kevin Schmidt, Rob Manthei and others in teaching these schools.
Schools are held at outstanding resorts and lodges that cater to musky fishermen. Schools are non-competitive, and students are encouraged to share information to help everyone catch and learn more about muskies. A low student/instructor ratio is maintained, and class size is limited to no more than 24 students at any school.
WHAT'S INCLUDED
• Latest information
• Marked maps
• Seminars
• Class materials
• All meals
• Lodging
• Welcome bag containing musky lures, leaders, etc.
• A chance at hundreds of dollars worth of door prizes
2023 SCHEDULE
SUMMER MUSKY TACTICS
When: June 9-11, 2023
Where: Vilas County, Wisconsin
Hosted by St. Germain Lodge and Fibber's Restaurant, www.stgermainlodge.com
Base Package (bring your own boat and tackle): $800
Guided package (fish with an instructor in his boat): $1,250
Learn summer musky tactics during the pre-summer peak in the famed waters of northern Wisconsin. High success rate. This is a Friday through Sunday event, and the University of Esox staff will be joined by top guides including Rob Manthei and Kevin Schmidt. Students annually enjoy a success rate of around 50 percent at this school. Attendees receive about eight hours of seminars, which discuss all "typical" summer musky fishing tactics. As many as a dozen different area waters may be fished during this school.
The school package includes seminars, three nights lodging (Thursday-Friday-Saturday nights), all meals, and a chance at many door prizes. Enrollment is limited to 23 students. This popular school is always a quick sell-out! Don't have a partner? We can pair you up with another student.
GUIDED PACKAGES
Fish with the instructors! Guided packages are available for the Summer Musky Tactics school. Students who choose the guided option may bring their own tackle or use the guide's tackle. It's your choice. You will fish out of the guide's boat. If you're traveling for a considerable distance to attend one of these schools and sign up for guided option, all you need to do is show up with clothing appropriate for the weather and a fishing license, and you're good to go.
FOR MORE INFORMATION OR TO SIGN UP
Call Steve Heiting at 715-358-0754 or click here to e-mail.
CANADA MUSKY ADVENTURE
When: July 15-22, 2023
Where: Lake of the Woods, Ontario
Hosted by Sandy's Blackhawk Island Camp, www.sandysblackhawkisland.com
Full Week Package (bring your own boat and tackle): $1,795
Your ultimate musky vacation! A week-long musky fishing school on Lake of the Woods' fabulous Northwest Angle is conducted by the University of Esox each July. Learn the secrets of Canadian waters and the tactics to catch giants. Twice-daily info sharing sessions keep everyone on the hot patterns. More than 2,500 muskies have been caught in this school since its inception — up to 54 1/2 inches. This school teaches students how to fish Canadian waters, specifically Lake of the Woods, with summer musky fishing patterns. The skills taught at this school can be applied to any Canadian water.
Each year, several of the University of Esox students catch their personal best musky during this school, sometimes exceeding 50 inches. Sandy's Blackhawk Island Camp is owned by legendary LOTW guide Bill Sandy, arguably the best musky guide on the entire lake. The camp, built in 1999, features beautiful log buildings and is one of Canada's premier musky fishing camps. Jim and Steve are joined by veteran instructor Kevin Schmidt.
Enrollment is limited to 24 students. While you can sign up as an individual, we highly recommend that you sign up with a partner.
You must bring your own boat to this school. Boats are not included in the school price, nor are they available from the resort.
Included in the school package are: 15 hours of seminars; twice-daily information-sharing sessions; class materials; all meals; lodging for the entire week; one day fishing with one of the instructors; dockage; welcome bag; and a chance at many valuable door prizes.
While part of your instruction includes a day fishing with one of the instructors, University of Esox instructors are not available to guide in the Canadian Musky Adventure. Bill Sandy is available as a guide throughout the week.
FOR MORE INFORMATION OR TO SIGN UP
Call Steve Heiting at 715-358-0754 or click here to e-mail.
Call 1-715-358-0754 to sign up or receive more info!
Hurry! Enrollment is limited. Don't miss your chance!