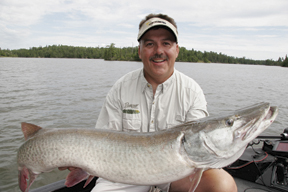 Steve Heiting is one of musky fishing's best-known anglers and an inducted member of the Fresh Water Fishing Hall of Fame. He is a fishing guide, freelance writer, and video & radio producer after working as managing editor at Musky Hunter magazine for more than 27 years.
Although his home is northern Wisconsin, Steve is a well-traveled angler and has caught big muskies from the northern-most musky lake in Ontario to as far south as Kentucky.
Steve is co-owner of the University of Esox Musky Schools. Each spring, he conducts seminars for sport shows and fishing clubs throughout the Midwest, and has presented more than 300 in his career. Every August he serves as the master of ceremonies for the National Championship Musky Open, the largest musky tournament in the world, which annually draws more than 1,300 anglers to Eagle River, Wisconsin.
Since 2018, Steve has been the lead presenter at the first-ever college musky fishing course, at Nicolet College in Rhinelander, Wisconsin.
Steve is the host of Steve Heiting's Northwoods Musky Report, a weekly radio segment carried by WJJQ of Tomahawk, Wisconsin, and broadcast throughout Wisconsin's northwoods. Each weekly segment is archived on all podcast formats. For more information, click here.
In 2022, Steve launched Steve Heiting's Musky Tips on YouTube, with 15 weekly tips. The series resumed January 16 and will run through April. For more information, click here.
Steve has written three books, two of which are considered classics in musky fishing literature. Steve co-authored The Complete Guide to Musky Hunting with Jim Saric. His first was the classic Musky Mastery: The Techniques of Top Guides. The digital edition of Musky Mastery is available by clicking here. Steve also wrote a hunting book, entitled Hunting Northwoods Bucks, which is available by clicking here.
Steve has written, edited or contributed to 27 books about musky fishing, and has written more than 500 magazine articles. He has produced five musky fishing DVDs.
Steve's fishing tactics have been featured in articles in In-Fisherman, Field & Stream, Outdoor Life, Bass Pro Shops Outdoor World, and Wisconsin Outdoor News magazines. He is also a contributing writer to Wisconsin Outdoor News, providing vital musky information to the readers of the state's largest outdoor publication. His articles and photographs have appeared in more than two dozen magazines and newspapers covering the outdoor sports.
Steve is now available for guiding in northern Wisconsin. For more information, click here. Previously, he had guided in northern Wisconsin from 1988-2000, and became one of the state's best-known musky guides. Though not a tournament angler, he has fished successfully in those he has entered, including a third place finish in the PMTT's Invitational Championship at the conclusion of the one year he fished the trail.
An avid hunter, Steve is keenly aware of how the environment affects the habits of all creatures, from muskies to white-tailed deer to wild turkeys.
Steve is a Vexus Boats ambassador, and is on the pro teams of Mercury, St. Croix, Mepps, M-W Marine, Minn Kota, Humminbird and Stealth Tackle.
He earned a bachelor of science degree in communication from the University of Wisconsin-Stevens Point, graduating in 1982. Steve and his wife, Connie, live near Minocqua, Wisconsin.