Steve Inducted Into Fishing Hall Of Fame
Steve Heiting was inducted into the Fresh Water Fishing Hall of Fame on Sunday, August 21, 2022, during the awards ceremony of the National Championship Musky Open in Eagle River.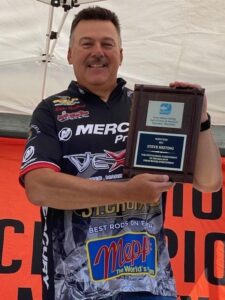 HOF Director Emmett Brown performed the induction before approximately 1,200 people. He was joined by on the stage by Jim Saric, a 2012 HOF inductee and Steve's friend and former boss at Musky Hunter.
Steve thanked the HOF, the friends who nominated him, his wife Connie, his children and grandchildren, his friends, the companies with which he works, and the tournament's anglers. "There is no better crowd to share this moment with than you," he told the crowd.
He especially thanked his late father, Ray Heiting, and grandfather, Ben Heiting, saying his "story is merely an example of what can happen when you take a kid fishing."
Steve said that when his father died, he found solace in writing. "I wrote that fishing is the greatest pastime for mankind. It teaches us about patience, humility and perseverance. And, usually, we fish with relatives or close friends, so it also teaches us about love, and helps us make memories," he said. "So if you take anything away from my induction today, please remember to take a kid fishing. You will not only introduce him or her to an enjoyable lifetime sport, but you will help them learn so many things that truly matter in life."
Steve is among six 2022 inductees to the HOF.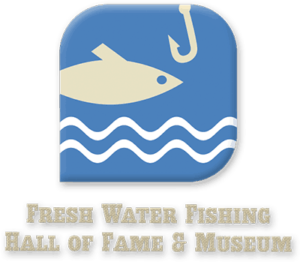 Heiting, 62, of Minocqua, Wisconsin, is the sixth Musky Hunter magazine staffer to be so honored. He joins Saric, founding editor Joe Bucher, and field editors Spence Petros, Dave Dorazio and the late David "Crash" Mullins as inductees.
The five other anglers in the 2022 induction class include walleye pro Tom Keenan from Wisconsin, charter captain Steve Jones of Michigan, trout conservationists Dave Kumlein of Montana and Chris Wood of Virginia, and Berkley lure designer John Prochnow of Iowa.
"The Fresh Water Fishing Hall of Fame has chosen six incredible individuals to receive recognition with their induction into the 2022 class of Hall of Famers," said a press release issued by the HOF. "From competitive angling backgrounds, to communicators, inventors and conservationists, the Fresh Water Fishing Hall of Fame had an eclectic group of nominees to choose from and it is highlighted by this year's recipients."
The Fresh Water Fishing Hall of Fame and Museum is located in Hayward, Wisconsin, and is the international headquarters for education, recognition and promotion of fresh water sportfishing. Its mission is to develop and maintain the Fresh Water Fishing Hall of Fame and its museum for the preservation and display of historical artifacts of fresh water sportfishing.
Visit www.freshwater-fishing.org.