Rods: Steve has been affiliated with St. Croix since 1988 and has found no reason to use any other brand.
St. Croix has five levels of musky rods — the Legend Elite, Legend Tournament, Premier, Mojo and Triumph series. Steve has tried all of them but prefers the Legend Elite and Legend Tournament series. "Both top-of-the-line series have three St. Croix proprietary features — IPC (Integrated Polycurve Technology), which allows for smoother casting and greater sensitivity; ART (Advanced Reinforcing Technology), which strengthens critical stress points without adding bulk or weight; and FRS (Fortified Resin System), which creates a blank that is 33 percent stronger," said Steve. "In addition, the Legend Elite series offers TET (Taper Enhancement Technology) which provides curved patterns for improved action with increased sensitivity.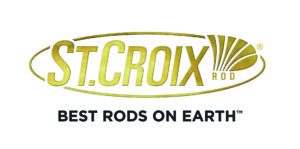 For more on ART, IPC, FRS and TET, click here.
"If the high end rods are not for you, check out St. Croix's Premier, Musky Mojo and Triumph series," Steve said. "The Premier series' outstanding track record speaks for itself, and the Mojo and Triumph series are terrific values for the money."
By application, here are Steve's rod choices:
Bucktails — Steve prefers the St. Croix 9-0 (LEM90MHF), 8-6 Legend Elite (LEM86MHF) or Legend Tournament (LTM86MHF) "Long Ranger" for small to mid-sized bucktails. However, for Mepps' H210 and Double Cowgirls, he prefers the St. Croix 9-0 Legend Elite (LEM90HF) or Legend Tournament (LTM90HF) "Big Nasty," the St. Croix 8-6 Legend Elite (LEM86HF) or Legend Tournament (LTM86HF) "Sling Blade."
"Figure-8's are extremely important with twin-ten bucktails and these rods make the maneuver more efficient," Steve said.
Other good bucktail sticks from St. Croix, though less expensive, are the 8-0 Premier (PM80MHF) and the 8-6 Premier (PM86HF), and the 8-0 and 8-6 Musky Mojo (MM80MHF and MM86HF).
Jerkbaits — For glider-style jerkbaits (e.g. Reef Hawgs, Hellhounds), Steve uses the St. Croix 7-6 Legend Elite (LEM76XHF) or Legend Tournament heavy action rod (LTM76XHF) "The Jerk." For diver-style jerkbaits (think Suicks), he uses St. Croix's Legend Elite St. Croix 8-6 Legend Elite (LEM86HF) or Legend Tournament 8-6 heavy action (LTM86HF) "Sling Blade." Lower-priced alternatives include the 7-6 Premier (PM76HF), the 8-6 Premier (PM86HF) or the 7-6 Musky Mojo (MM76HF).
Crankbaits and minnowbaits — For large crankbaits and minnowbaits (DepthRaiders, Triple D's, 10-inch Slammers, 10-inch Jakes, etc.), Steve uses St. Croix's Legend Elite 8-6 (LEM86HF) or 8-6 Legend Tournament (LTM86HF) "Sling Blade." For smaller crankbaits and minnowbaits (Baby DepthRaiders, 6- to 8-inch minnnowbaits, etc.) he uses St. Croix's Legend Elite (LEM86MHF) or Legend Tournament 8-6 medium heavy (LTM86MHF) "Long Ranger." Less-expensive alternatives are the medium heavy 8-6 Premier (PM86MHF) or the 8-0 Musky Mojo (MM80HF).
Topwaters — For prop baits, Steve uses St. Croix's 8-6 Legend Elite (LEM86MHF) or Legend Tournament 8-6 medium-heavy action (LTM86MHF) "Long Ranger." For walk-the-dog topwaters (Jackpots, Weagles) he uses the 7-6 Legend Elite (LEM86XHF) or Legend Tournament "The Jerk" (LTM76XHF). In other series, you'll want the 8-6 Premier (PM86MHF) or 8-0 Musky Mojo (MM80HF) for prop baits, and the 7-6 Premier (PM76HF) or 7-6 Mojo (MM76HF) for walk-the-dogs.
Soft plastics — Steve uses St. Croix's Legend Elite (LEM90XHF) or Legend Tournament 8-6 Legend Tournament "Big Dawg" (LTM86XHF) or 9-0 Big Nasty (LTM90HF). In the Premier series, you'll want the 8-6 (PM86XHF), and in the Mojo series you'll want the 8-0 (MM80HF) or 8-6 (MM86XHF).
Livebait, trolling — St. Croix Premier 8-0 (PG80HM). This rod features fiberglass construction for increased durability in extreme conditions.
To read Steve's review of St. Croix's new Legend Elite series, click here.
For more information on St. Croix rods, please visit: www.stcroixrods.com
Reels: Steve has long been a big fan of the St. Croix AC-300A, which is an extremely smooth reel with terrific durability, outstanding drag, and a versatile 5.1:1 retrieve ratio. However, this reel has been phased out by St. Croix.
"If you can find one in a tackle shop somewhere, buy it because you won't regret it," Steve says of the AC-300A. "Otherwise, for a reel that will stand up to musky abuse, you need to spend at least $200 and up. Between larger baits, no-stretch line, and longer rods that create more casting power, lesser reels won't hold up."
Good reels that Steve has personally used and suggests are the Shimano Tranx series, Shimano Conquest, Abu Garcia Revo Toro series, and Daiwa Luna 300 and Prorex series.
Lures: Steve believes that lures are tools, and there are no magic baits. Each one is used for a specific situation. His tackle box is filled with lures like Mepps, Double Cowgirls, DepthRaiders, Slammers, Reef Hawgs, TopRaiders, Teasertails, Grandmas, Jakes, Stompers, Bull Dawgs, Shallow Invaders, Jackpots, and Triple D's, to name a few.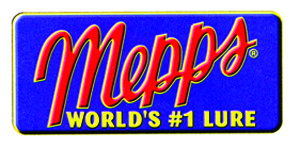 Steve highly recommends the Mepps line of bucktails. In fact, he helped design the Mepps H210, Musky Flashabou, and the Giant Killer Sassy Shad. Of course, he also uses the Musky Killer, Magnum Musky Killer, Giant Killer, Musky Marabou, Double Bladed Musky Marabou, and Marabou lines. No other company offers Mepps variety of colors, as well as the mix-and-match versatility of switching blades and tails right in the boat. Plus, the split-ring-jointed design provides a more life-like tail action as the lure is pulled through the water, helps these baits cast like a bullet (rather than "helicopter" in the wind), and helps prevent muskies from throwing them during the fight.
Steve often uses Mister Twister tails to add color and vibration to many of his bucktail offerings.
For more information on Mepps' fine product line visit: www.mepps.com. For info about Mister Twister tails, visit: www.mistertwister.com
Trolling Motor: Steve has long been a fan of Minn Kota's Terrova and PowerDrive models, and starting in 2017 uses a 112-pound thrust, 36-volt self-deploying Ulterra. Not only do these trolling motors have plenty of power, but they have unsurpassed durability. With an 18-foot cable to the control pad as well as Minn Kota's I-Pilot, the trolling motor can be steered from anywhere in the boat!

"I-Pilot is awesome. Say you've just fished a rocky, complex shoreline and spotted a giant fish you'd like to come back and fish later. Certainly fishing at first-dark is one of your best chances at catching that fish. Since I-Pilot records your GPS track, you need to simply save the track. Then, when you come back and maybe visibility isn't so good or it's completely dark, just let I-Pilot steer your boat to that monster," Steve says.
For more information on Minn Kota's fine product line visit: www.minnkotamotors.com
Outboard: Steve has never used anything but Mercury Outboards and rigs his Rangers with 300 hp Pro XS 4-stroke high performance engines, and 15-horsepower Mercury Pro Kickers.

"The Pro XS 4-stroke is so quiet yet has the cool OptiMax growl upon startup. You really need to start up a boat with one to believe it," said Steve. "These engines are bullet-proof. Turn the key and they start right up, and they'll give tremendous reliability, terrific fuel efficiency and an awesome hole-shot. In fact, I stay in contact with many of my boats' buyers and they enjoy long term reliability and success. I can't imagine a better outboard lineup."
Steve couples his Pro XS 4-stroke with a Mercury high-performance stainless steel props.
For more information on Merc's fine product line visit: www.mercurymarine.com
Boat, Outboard Dealer: Shoeder's Marine in Rhinelander is an awesome northwoods Wisconsin boat dealer, and is where Steve Heiting orders his rigs.

"I am completely happy with my dealership. They do a great job rigging the boat, deliver it on time, and there's a courteous and professional atmosphere when you enter the building," Steve said. "The entire experience, from the time you begin shopping through the duration of ownership, is first rate with Shoeder's. And, now that I've been working with Shoeder's for a number of years, I've learned from the Ranger and Mercury buyers I've referred to them that their prices are almost never beat by anyone else. Do yourself a favor and see Shoeder's first."
For more information on Shoeder's Marine, visit: www.shoedersmarine.com
Fishfinder/GPS: Steve has become a big fan of the new Humminbird fishfinder/GPS combos, and now uses Humminbird's Helix 10 units front and back. "Humminbirds have great resolution, tremendous target separation, and unmatched GPS accuracy," Steve noted. The Helix units have Humminbird's exciting Side Imaging and Down Imaging technology.

"Nothing can hide from Side Imaging," Steve says. "If it's there, Side Imaging is going to show it to you."
With both units linked via Ethernet, waypoints can instantly be shared back and forth between the units. "Say you've just scanned a shoreline with Side Imaging and you spot a fish crib or rock pile you didn't know was there. Mark it with a waypoint, and thanks to the Ethernet connection, the waypoint is now on both 'Birds. I can instantly go to my bow fishfinder and return to the new waypoint and fish the spot I've just found."
For information on Humminbird electronics, visit www.humminbird.com
Leaders: Steve uses fluorocarbon leaders made by Stealth Tackle about 80 percent of the time. He uses a solid wire leader when trying to get more swing from a glider jerkbait or walk-the-dog topwater, and during the spring, when he will choose one of Stealth's lightweight wire leaders, which Steve helped design.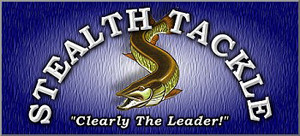 Stealth leaders are tied, crimped and glued, so they aren't going to fail, and are coupled with a 150-pound test stainless steel ball bearing swivel and Stay-Lok snap.
The Stealth fluorocarbon leaders Steve uses are made with 130-pound test fluorocarbon and measure 14 inches long. His solid wire leaders are made by Stealth and feature 174-pound test American Fishing Wire material.
"I've used Stealth leaders since the 2008 season and have had countless big muskies get the leader in their teeth, yet I have not lost a single fish to a bit-through leader. The 130-pound test size seems perfect for handling musky teeth. I know, because of the near-invisibility of fluorocarbon, I catch more and bigger muskies with Stealth leaders," Steve said.
Steve switches to wire is when the lure or muskies dictate it. "A glider jerkbait or walk-the-dog topwater requires a wire leader for better action. Fluoro is wider and tends to drag in the water, inhibiting the action of such lures," Steve explained. "And, occasionally while using bucktails I've seen instances in which anglers using wire leaders outfish those using fluoro. The only thing I can guess here is the wire better transmits the bucktail's vibrations into the water. If not that … it's just a matter of muskies being muskies! Thankfully, this is a rare occurrence."
For more on Stealth leaders visit: www.stealthtackle.net/