Steve's "Musky Tips" Videos Resume In 2023
"Steve Heiting's Musky Tips," a series of weekly segments offering ways to improve as a musky angler, have debuted for 2023 on social media.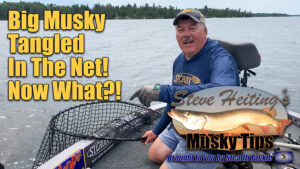 The musky tip series premiere January 16 and will run for through April. Musky Tips will go live simultaneously each Monday on YouTube, Facebook and Instagram. Stealth Tackle has signed on as title sponsor for the series.
The first segment deals with what to do when a big musky gets tangled outside of the net. "You need to act quickly because a big fish has lots of leverage and can get away in a hurry," Steve said. "I didn't plan to film a segment like this — it just happened — but fortunately I got the fish into the net and you'll see how in the video."
Steve's Musky Tips are short and fast-hitting, and only two to four minutes in length. They combine on-the-water footage of fishing techniques and tackle discussion with video of musky action.
"By no means am I calling this a 'TV show'," Steve explained. "Rather, it's my attempt to help viewers out with questions they may have about the sport.
"Nothing like this was available when I started musky fishing, and a lot of what I knew early in my career was self-taught through a lot of trial and error. I never forgot how hard it was to get started, and my whole career has been dedicated to helping share knowledge of this great sport with others.
You can view and subscribe to Steve Heiting's Musky Tips by clicking here.