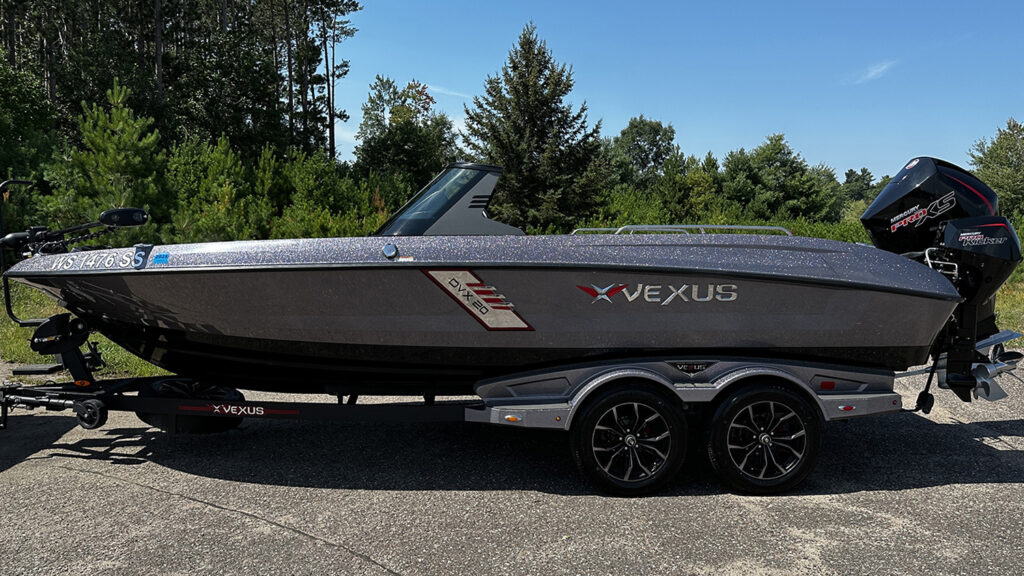 Steve's 2022 boat rig, including a Vexus DVX20 with a 300 hp Mercury Pro XS and 15 hp Merc Pro Kicker, has been sold.
As a Vexus Boats ambassador and a Mercury Pro Team member, Steve buys and sells a new rig every season. His boat of choice is a Vexus DVX20, which measures 20 feet 9 inches.
Steve's boats are garage-kept when not on the water, and he is meticulous about his boats' maintenance.
Click here to contact Steve about his boat.
FAQs
1. When is Steve's boat available?
Steve is an avid hunter and sells his boats on or about November 1 each season. Depending on his schedule, you may be able to buy the boat a couple weeks earlier. By doing so, you still have time to fish from your new rig this season.
2. How many hours will be on the outboards?
The 300 Pro XS outboard will have about 100 hours when he's done fishing for the season. (This can be verified by the Merc Monitor system rigged on the boat's console.) The kicker is used for boat control in big wind and trolling, and will typically have around 20 hours on it.
3. Do warranties transfer?
Yes, all remaining warranties will transfer to the new buyer. Steve always participates in Mercury's Five-And-Drive warranty program, so full warranties for the 300 hp and 15 hp kicker will be in place for another four years.
4. In what condition will the boat be when Steve sells it?
Steve guarantees that everything will be in good, working order and that any scratches in the boat's hull above the waterline will be fixed at his expense. Vexus carpeting is extremely high quality and does not stain. Steve does not fish tournaments so this boat will not have been stressed by excessive speeds in heavy winds.
5. I've had a different brand of electronics and my waypoints are saved in that brand's format. Can my waypoints be converted to Humminbird's GPS system?
Yes, easily. Humminbird offers Humminbird PC on its website, and any competing brand's waypoints can be converted. In fact, Steve's waypoints were the first ever converted by Humminbird and they were dead-on accurate.
6. Is there anything regarding the sale of the boat that is not included in the price?
You are responsible for any applicable sales taxes and any warranty transfer fees.
7. Will Steve deliver the boat?
Yes, within a four-hour drive of his home. Otherwise, arrangements can be made for mileage expense or to meet Steve at a predetermined point.
8. I'm in. How do I buy this boat?
A 10-percent down payment is required to hold Steve's boat, with the balance due in the form of a cashier's check or money order at the time of delivery.
9. Where can I learn more about Vexus Boats?
Click here to visit Vexus' website.
Click here to contact Steve about his boat.