** Northwoods Musky Reports To Resume in May 2022 **
2021 Reports Archived As Podcasts
Requests from potential listeners for more widespread availability of his weekly musky fishing reports have prompted Steve Heiting to make the segments available in a podcast format.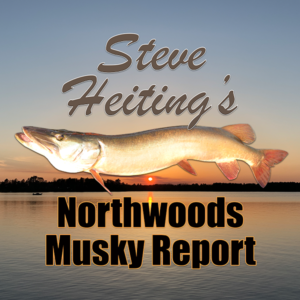 "Steve Heiting's Northwoods Musky Report" is available on all podcasts platforms.
Visitors to Wisconsin's northwoods can listen to new musky reports from Thursday through Sunday on Northwoods 92.5, WJJQ Radio of Tomahawk, Wisconsin, or stream them at wjjq.com. Segments will become available on the podcast platforms on Monday morning.
"I am thankful to those who requested more availability of the musky reports, and to WJJQ for allowing me to share them in additional platforms," Heiting said. "I am also thankful for my title sponsor, Mepps, for its continued support of my endeavors for nearly 20 years.
"Never in my wildest dreams did I think I would do a radio fishing segment, yet here we are."
The reports are quick-hitting and less than four minutes in length. A total of 22 weekly installments are planned through September of 2021. Heiting's reports discuss current conditions, patterns and tricks for musky anglers, and highlight upcoming musky fishing events in the northwoods.
Heiting is the managing editor of Musky Hunter magazine, a position he has held for more than 26 years. Each year he serves as master of ceremonies of the National Championship Musky Open, which draws over 1,300 anglers annually to Eagle River, Wisconsin, each August.
Mepps, the manufacturer of "The World's #1 Lure," of Antigo, Wisconsin, has signed on for the entire season as title sponsor.
To listen to Steve Heiting's Musky Report on WJJQ, click here. To listen on Anchor, click here. To listen on Spotify, click here.