By Steve Heiting
The price in the ad for the boat package was so good you just had to see it for yourself. In fact, it beat the price you had been quoted by another marine dealer by a couple thousand dollars. Climbing out of your pickup, you patted your back pocket to make sure the checkbook was handy in case it was time to pull the trigger on the new boat purchase.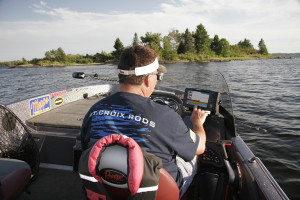 Stepping into the showroom you instantly spotted your dream boat. Same model, same trailer, same outboard … how could the prices of two different dealers be so far apart? And then you saw it — a single liquid crystal graph on the console and a low-powered trolling motor were the only electronics included in the price. Speaking with a salesman you learned that upgrading the electronics would add to the bottom line, and when he finished punching numbers into his calculator the cost of the boat package was remarkably similar at both dealerships.
Boat dealers are notorious for rigging new boats with inexpensive electronics in the attempt to keep prices down. Modern electronics are pretty reliable, so you if you decide to go this route you can get by with lower-cost units. However, quality electronics — trolling motors and fishfinder/GPS combos — are essential if you hope to consistently catch fish, regardless of species.
I'm not going to tell you how much to spend. Everybody's budget is different, and the features of your electronics can cause a boat price swing of as much as $5,000. But there are some criteria you should follow when pricing out a new boat or rerigging a used model.
• The concept of work stations — As you rig your boat, you must consider your "work" stations, which is where you fish in the boat. Whether this is the bow or the stern, or both, you need a trolling motor and fishfinder rigged in tandem at each work station so you instantly know the depth and bottom content and can adjust your boat's position as necessary.
If you have a tiller-steered boat and fish from the back (as do most guides), you can get by with one fishfinder, but if you prefer to fish from the bow you'll need a second fishfinder there. If you fish from the front, don't try to get by with a single sonar unit spun around on its mount on the console or back of the boat — depending on the boat's length, the data you are reading will be from a transducer that's 12 to 20 feet away!
• Is GPS necessary? — Without question, global positioning systems (GPS) can make you a better fisherman. Sure, they're handy for finding your way back to the landing, but waypoints can be used to instantly mark and later relocate obscure walleye humps, panfish cribs or individual muskies that followed from featureless weedbeds. Since I primarily fish for muskies, I'll use waypoints to outline shallow reefs or mark points and turns in weedbeds.
On a bright, sunny day I may be able to visually spot these features, but these waypoints are invaluable when I try to retrace my route around a spot when the skies are darkening and the muskies are ready to bite. I believe so strongly in GPS that I rig my boat each year with two units — one at the console and one in the bow. Each unit has its own antenna so my boat positioning is as accurate as the units will allow.
• Trolling motors — Electric motors can vary in price from a few hundred to nearly two thousand dollars depending on their power and features. Bow-mounted units tend to be more expensive than stern-mounted motors, and some units even have GPS features that allow you to retrace previous routes or "lock-on" to a spot, regardless of wind direction or speed.
Whether you prefer cable-, electronic- or hand-steered motors, there are two constants that must be followed when buying a trolling motor — buy the most powerful trolling motor you can afford and have one at each work station. Twenty-four- or 36-volt trolling motors will keep you fishing long after 12-volt systems have run out of juice, and while this may not be important on the 200-acre lake you like to fish after work, it's a huge consideration when you're on vacation and the fish are finally starting to bite after a long, windy day.
Deep cycle batteries to power your trolling motor should be more than an afterthought. Marine batteries are available in "group" sizes with 24, 27 and 31 being the most common. While the number 31 is only slightly higher than 27 and it doesn't seem like much of a difference, it doesn't work that way. I made the mistake once — and only once — of rigging my boat with group 27 batteries, and they seemed to have half the juice of the group 31 batteries my boat carried the year before — and every year since.
• Fishfinders — Fishfinders are so advanced now that in many cases if I don't see fish on the screen as I motor into a spot, I won't stop to wet a line. If I'm musky fishing, I want to see baitfish on the screen as I approach a spot.
Price of the units will vary depending on monochrome (black and white) screens vs. color, screen size, GPS (which we've already decided is a must-have) and side-imaging capability. Larger screens provide better detail, especially for side-imaging or GPS mapping, and color is more than something that "just looks nice." The first time you use color to distinguish a walleye from a rock on the bottom — and then catch it — you'll agree it's a necessity.
Electronics were in their infancy when my grandfather taught me to fish, so I know as well as anyone that you don't need every bell and whistle. However, today's electronics can greatly shorten the process of locating and then catching fish … and isn't that why we're on the water?